Whitfield Pellet Stove
A highly rated pellet stove available in the market today is Whitfield Pellet Stove. The stove was launched in the market by its originator Dr. Jerry Whitfield. In 1983, Dr. Whitfield founded Pyro Industries which produced Whitfield Pellet Stove in the market. Pyro Industries was taken over by Lennox Hearth Products in 1998; therefore they are the current manufacturers of the Whitfield Pellet Stove.

Advantages of Whitfield Pellet Stove:
Low Cost: Whitfield Pellet Stove will incur low cost for generating heat as compared to oil and gas stoves. The stove can be used with different types of pellets suiting your budget.
Low Maintenance: The Whitfield Pellet stoves are of high quality and fully automatic. The stove requires no maintenance and adjustments while in operation.
Energy Conservation: Pellets used in the Whitfield Pellet Stove can be made from the biodegradable waste resources and second hand woods thus saving upon the precious energy.
Types of Whitfield Pellet Stove:
Cascade Whitfield Pellet Stove: This is the basic model of the Whitfield pellet stove. The features does not support automatic ignition and is not adaptive to room thermostat. The efficiency of the stove is put to maximum with the use of Ultra grate. A hopper has the burn time up to 40 hours. Heating capacity of the Cascade stove is 1,500sq.ft. Average efficiency of the stove is 81%. The body of stove is made up of fabricated steel. The stove is approved by E.P.A. The stove comes with 20 years of warranty on the body, heat exchange tubes and glass; 5 years warranty on the burn pot and 2 years warranty on the grate and electronic components.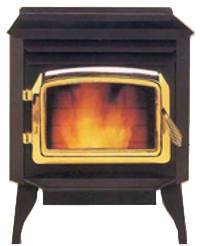 Whitfield Profile Pellet Stove: This stove comes in two sizes 20 inches stove and 30 inches stove. Both have same functions except the change in the size of the hopper. The larger hopper size results in better efficiency and burn time. The stove can be linked with the room thermostat which will make the automatic ignition of the stove possible. You can fix the temperature for the start and the stop of the pellet stove thus it will reignite and shut down respectively. A photo eye feature is also available in this stove which will let you know if the stove has no flames. The heating capacity of this stove is 1,900sq.ft. The burn time can go up to 41 hours. The product is E.P.A. approved and has efficiency of 81%. It comes with the similar warranty as the Cascade stove.

Wood Stove Parts
Used Wood Stoves
Wood Stove Reviews
Pot Belly Stove
Cast Iron
Pellet Stove
Firewood
Chimneys
Chiminea
Wood Stove Pipe
Wood Stove Blower
Antique Wood Stove
Wood Heater
Wood Stove Steamers

Aarrow
Ashley
Austroflamm
Avalon
Blaze King
Breckwell
Buck
Century
Dovre
Drolet
Dutchwest
Fisher
Harman Pellet Stoves
Hearthstone
Jotul
Lopi
Morso
Napoleon
Osburn
Regency
Soapstone
Timberline
US Stove
Vermont Castings
Vogelzang
Whitfield Pellet Stove