Pellet Stove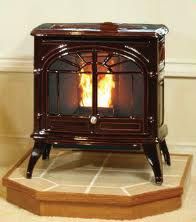 Are you environmentally conscious? Do you strive to keep your home and workplace as eco-friendly as possible? Have you noticed the rising prices of gas and electricity, especially in states like California? Heating prices have been steadily increasing for the past several years, and can reach utterly ridiculous heights. And there's no end in sight. Gas and electricity prices will continue to rise, and families will be forced to absorb the cost, especially in colder climates. But there are several cost-efficient, environmentally friendly alternatives to typical gas and fossil-fuels, including the pellet stove.
These stoves can use wood pellets, cherry pits, or even corn as fuel. They rose in popularity during the seventies, during the fuel crisis. In the past three decades, the style and design has evolved. They are often small and compact, with attractive and stylish designs. Pellet models can fit in almost any home or apartment, and the fuel tends to be much cheaper than wood, coal, gas, or electricity in the long run. Especially since most of these stoves can burn corn. In fact, it's possible to burn one all winter for under one thousand dollars. Pellet-burning stoves also come in commercial sizes for businesses and offices.
While they have many advantages, its important to remember that they have some specific installation needs.
Find out more on how to find the best pellet stove.