Morso Stoves
Morso was founded way back in 1853 by N.A. Christensen. Started as a small Danish iron foundry, within no time Morso established itself as the country's leading manufacturer of cast iron goods. Now Morso is the market leader in producing high performing and energy efficient stoves. Since its inception the company has consistently strived for technological advancement to produce modern cast iron stoves. Along with the outstanding quality and output, Morso Wood Stoves are environment friendly made up of 98% of recyclable materials. All the Morso stoves come with 10 year warranty and have EPA approval.

Morso wood stove comes in wide ranges. They have been divided in two major categories:
1. Contemporary Stoves:
Morso 6100 Series: Morso 6140, 6143 and 6148 belong to this series. They have the heating capacity up to 1000 sq.ft. The built and design of these stoves is very elegant with beautiful curves. The stoves are simple yet have strong construction with excellent cast iron usage. Cast iron goods have long life and it can be easily transformed into beautiful shapes. These stove fall in the range of 30,000 BTU/hr.
Morso 7600 Series: Contemporary stove falling in this series are large in size with beautiful round contouring and eye captivating huge glass door in the upper front of the stove. These stoves are a true example of high style and dedicated craftsmanship. Morso 7600 series stove are convection stove that produces efficient heating system with proper combustion technique. These stove fall in the range of 25,000 BTU per hour. They have the heating capacity of 1200 Sq.Ft.
Morso 8100 Series: These stoves are crafted using cast iron with utmost sophistication. They come in splendid curved shaped with easy to load big glass doors. The stove is made of very high quality materials which prevents its wear and tear for long. The heating capacity of the stoves from 8100 series is 1200 Sq.Ft. Few models in this range also have side glass windows along with the big glass doors to make the looks even more outstanding.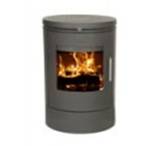 Morso 6140

2. Classic Stoves:
Morso 1400, 1410 and 3100 Series: Morso Classic Stoves are uniquely designed to provide quick heating solutions. These Stoves have heating capacity of 1000sq.ft and are ideal for small heating spaces. Morso Classic Stoves are very easy to operate. Thesehave classic squirrel relief engraved on both sides. Check out our review of the Morso 1410 Squirrel and the Badger 3112
Morso 2B: Classic and Standard: Both the 2B models are very popular and eco-friendly. They are designed on four legs. These stoves come equipped with ashtray, ash pan and riddling grate. Morso 2B Standard is known for very less smoke emission due to its advance wood burning technology. These stoves are effective to heat 1200 Sq.Ft. of area.
Morso 3610: This is the largest of Morso Stoves with 60,000 BTU and heating capacity of 2,400 Sq.Ft.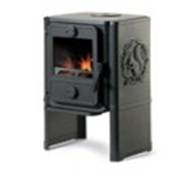 Morso 1440

Morso's state of the art wood stoves are highly efficient and beautifully designed to be the choice of every home.

Wood Stove Parts
Used Wood Stoves
Wood Stove Reviews
Pot Belly Stove
Cast Iron
Pellet Stove
Firewood
Chimneys
Chiminea
Wood Stove Pipe
Wood Stove Blower
Antique Wood Stove
Wood Heater
Wood Stove Steamers

Aarrow
Ashley
Austroflamm
Avalon
Blaze King
Breckwell
Buck
Century
Dovre
Drolet
Dutchwest
Fisher
Harman Pellet Stoves
Hearthstone
Jotul
Lopi
Morso
Napoleon
Osburn
Regency
Soapstone
Timberline
US Stove
Vermont Castings
Vogelzang
Whitfield Pellet Stove