Wood Stove Pipe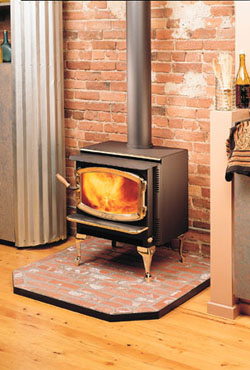 Wood stove pipe is an important consideration when you are looking at your heating installation. It's used to conduct the gases from a free standing stove to the chimney, whether metal or masonry. You shouldn't install pipe through ceilings, walls, floors or windows. Ideally, your chimney should be inside the home to prevent piping from going through those areas of your house.
There are two types of wood stove pipe: Close Clearance (two layers) and Single Wall (One layer).
Close Clearance Stovepipe
This type of stove pipe has a double wall design. The inner wall is stainless steel and the outer wall is black painted. Between the two walls is an air space which acts as an insulator. The advantage with this design is that you can install it with as little as a 6 inch clearance to your combustible areas. This type is a little more expensive and more difficult to work with than single wall pipe.
Single Wall Stove Pipe
This type is engineered to connect a stove to the close-by chimney. You can purchase this in different thicknesses, measured by gauges, (22 gauge or 24 gauge) and usually comes with a high heat resistant black paint coat. Depending on the manufacturer, you may be able to get stove pipe in enamel porcelain colors that coordinate with the specific stove. Just make sure all of your material, chimney included, is UL approved.
A rule of thumb is that wood stove pipe installation should be placed at least 18" from any combustible ceiling, wall, or floor. You will want to confirm this distance with the piping and stove labels and instructions. You will also want to check with your local building association or building code inspector. You don't want to install your stove only to find out during a home inspection that your pipe is not up to code.
You can reduce this distance in several ways. The easiest method is to install a heat shield on the wood stove pipe. This will potentially reduce the clearance distance down to 9 inches.