Aarrow Stoves
Aarrow Stoves have been in existence for the last 21 years. It has been manufacturing multi fuel stoves, wood stoves, boiler stoves, gas and electric stoves for quick and efficient heating solution for your homes. Each stove is handcrafted for perfect design and finish. The Aarrow Wood stoves provide safe environment heating solutions. The raw material used to manufacture the stoves are met with excellent standards of quality thereby the stove purchase comes with a lifetime warranty.

Wood and Multifuel Stoves: These stoves offer perfect cost effective and high performing heating system. Wood is used as the main burning fuel but other fuels can be added optionally for extra heating and long burning hours. Stoves under this category are:
Acorn: This is a compact stove meant for smaller places that may require secondary heating like living rooms, small holiday homes, etc. The stove is small in size but has all the trademark features of Aarrow Stoves such as airwash system, heat controller, air diversion system and steel body.
Sherborne: Sherborne is a two door highly styled wood stove. The stove is very easy to operate with riddling grate controlled from outside for a more comfortable experience. The stove comes in three sizes: small, medium and large to meet all your heating requirements.
Ecoburn: As the name suggests this stove is an excellent option for clean and safe environment. The options available can make the lesser fuel work for more. The stove has large glass door to enhance better fire looks. Internal ash lip makes the cleaning of the stove easier. There are many models available under this category.
Signature: This is the premium range stove that is highly sophisticated in style and efficiency thus taking the heating solutions provided by Aarrow Stoves to the next level. Being very high in its class, yet its operation is very simple and clear. Various models in this range come as freestanding or as an insert.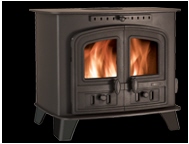 Sherborne

Gas Stoves: There are various models in this range. These stoves are highly efficient in the case of central heating system. The stove releases real fire but with the use of gas so it becomes a very convenient option for the stove users:
Sherborne CF Gas: The stove provides instant heating solution with high controllable heating options. The stove can even be operated with remote control and can be programmed to maintain a constant room temperature. The stove can also be used with door open. The variable heat output of this stove is 2-4.9 kW. This stove can take control over the coldest weather.
Becton CF Gas: This stove uses natural gas as well as coal beds for efficient and unobstructed heating solutions. The model looks stunning with the single glass door.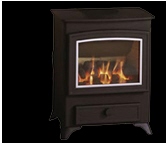 Becton CF Gas

The wide range of high class Aarrow Stoves are sure to make you feel warm and cozy in the cold winter seasons.