Harman Pellet Stoves
Harman Stove Company started in 1979 when Dane Harman devised a heating stove for his personal use. The invention became successful and the people living around Harman's house started placing order to Harman to build similar stove for them too. The order kept increasing and in a very short time foundation of the Harman Stove Company was laid. Since then with innovative technology and advanced engineering the company has been introducing revolutionary heating equipments.
Harman Pellet Stoves
comes in various size and are packed with features that will make your home heating experience a pleasure. Different models are available to cater to the specific need of an efficient home heating system. They are built with the use of highest quality materials with full performance and manufacturing warranty. The safety features of the stove are very impressive and the unit can automatically shutdown if it senses some interruption.

Different Models:
Harman P68: The most powerful pellet stove model in the line. Read our review of the Harman P68.

Harman Accentra: This stove is an elite class pellet stove with high performance features and sophisticated cast iron finish. The stove can be placed easily at any part of your home. Some of the prominent features of the stove include ESP control, which means there is no thermostat in the stove; however a small sensor present will judge the fuel requirement needed to warm up the room accordingly. It also has the feature of automatic ignition and the stove comes with temperature control option. The stove operates quietly and has a hopper capacity of 50 Pounds. Accentra with 40,000 BTU's per hour has the heating capacity of 1450sq.ft. The fuel used is Bio-Mass pellets. Harman Accentra Pellet Stove comes in various colors and finishes to redefine the look of your house.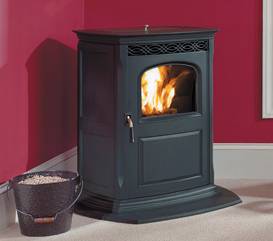 Harman Advance Pellet Stove: The stove comes with the temperature control systems. Therefore the stove will ignite and shut down accordingly if the set temperature of the stove and the room varies. Hopper capacity of the stove being 60 pounds, the product is ranged for 48,000 BTU's. Heating capacity of this Harman Pellet Stove is of 15,000sq.ft. The stove comes with convenient design which can be easily top loaded and is compact in size.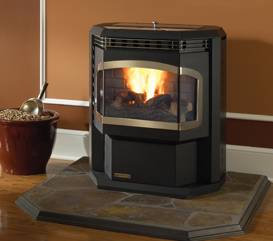 Harman P61: The best feature of this Harman Pellet Stove is that it can use any brand of pellets as fuel and will produce the same heating result with the lower quality pellets. This highly efficient pellet stove will be a cost efficient solution.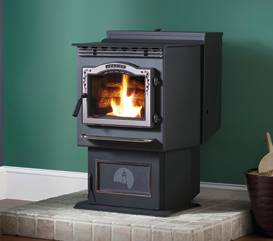 Harman XXV: This is the special edition stove to mark the 25th anniversary of the company. It has the range of 50,000 BTU's. The stove good looks, quality and functions in the line.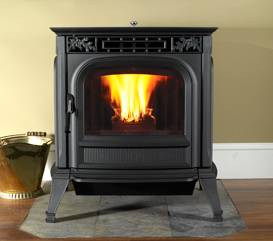 Oakwood: This is one of their log burning models.
Other models of Harman Pellet Stove are P43, P68, PC 45 and Pellet Pro 38 Plus. Each stove is packed with high standards and quality, thus providing an excellent heating system for your home. A good log burner option is the TL300